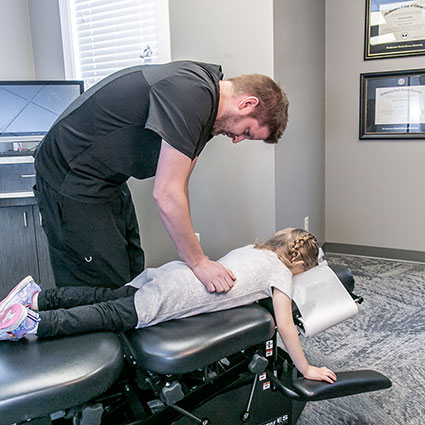 Chiropractic Care
You're born with everything your body needs to take care of and heal itself. When trauma, stress or disease occurs, they can block the body's natural ability to self-heal. Over time, this manifests as pain in your body.
What Is Chiropractic?
Chiropractic is natural health care designed around keeping your nervous system and spine healthy. The nervous system controls every function in the body. When something is pressing down on or restricting a nerve, a chiropractic adjustment releases the pressure. That allows nerve flow to return to normal, and the body can heal.
Patients experience pain reduction, and increased long- and short-term mobility. Chiropractic helps you attain better overall health and function.
A Balanced Approach
Our practice focuses on a wellness-based approach, but first we set each patient up with a unique plan to get them to that stage. Some conditions we have had success with include back pain, headaches, neck pain, extremity pain, colic, ADHD, pregnancy issues and more.
We may use various techniques to provide you with the best care. Most used are Diversified, Thompson Drop, Gonstead, Activator® and Myofascial Release. Dr. Paape is also a licensed acupuncturist. We always ask patients who have been adjusted elsewhere if there are any techniques they had success with, or ones we should stay away from.
NEW PATIENTS »
Frequently Asked Questions
Once I go to a chiropractor, do I always have to go?
Our patients want to continue care with us. Think about it; you've put the time and effort into fixing your problem, so why not maintain your results? You go to the dentist every six months to keep your teeth and gums healthy. It's important to receive chiropractic care occasionally, based on the timing that's right for you, to maintain your mobility and health.
Do chiropractic adjustments hurt?
Typically, no, they don't. Depending on the severity of the problem, or if the patient is in a lot of pain, it might be a little uncomfortable.
Why would I have my newborn or child adjusted?
The birth process is tough on the spine of a newborn. Having them checked as soon after birth as possible helps them get off to a good start in life. Children grow at a very fast rate and have the bumps and bruises to show for it. While they're very resilient, making sure their nervous system is healthy allows them to hit their milestones.
A child might not be sitting up, or pulling themselves up on time. We often find issues in the hips that need adjustment. Once repositioned, they can reach these milestones.
Who should see a chiropractor?
Everyone. Many times we hear people say they're healthy and don't need to see a chiropractor. There will always be opportunities in our daily lives to throw our spines out of alignment. Occasional visits to a chiropractor ensure your spine stays in alignment, allowing optimal function and mobility.
Ready to Take the Next Step?
Contact Healing Arts Chiropractic today to make an appointment and get started. We'd love to speak with you!
---
Chiropractic Care | (701) 451-9070