Meet Dr. Garret Schwinghammer
Clinic Director/Chiropractor – Wahpeton Location
A Passion for Outstanding Care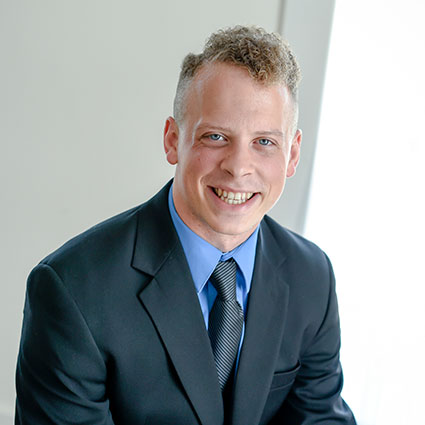 Dr. Schwinghammer loves when patients tell him that our chiropractic adjustments helped their issue—and also improved other conditions they hadn't realized chiropractic could help with. When patients begin to understand how adjustments can restore the body's ability to heal itself and function optimally, it fuels Dr. Schwinghammer's passion for providing outstanding chiropractic care.
A Natural Evolution
Growing up, Dr. Schwinghammer was always interested in natural health because his mom appreciated a holistic approach. A family friend who was a chiropractor encouraged Dr. Schwinghammer to expand that interest by becoming a chiropractor himself.
After beginning his studies at Bemidji State University, Dr. Schwinghammer earned his Doctor of Chiropractic, as well as certification in Acupuncture, from Northwestern Health Sciences University in Bloomington, Minnesota in 2016.
While in chiropractic college, Dr. Schwinghammer was inspired by a mentor who shared a success story about a patient with autism who, after chiropractic treatment, had a reduction in her autistic behaviors. This "aha moment" was the beginning of Dr. Schwinghammer's understanding that chiropractic can help with so many things that one might not expect.
Solving Problems
After graduating, Dr. Schwinghammer began practicing at Healing Arts Chiropractic's Fargo, North Dakota location in late 2016 before moving to the Wahpeton, North Dakota location in 2019. He genuinely cares for patients and is interested in getting to the root of their problem and solving it. He believes that care is about listening to the patient and doing what's needed to help them achieve their health goals. He offers various adjusting techniques, as well as acupuncture to meet your specific needs.
EXPLORE CHIROPRACTIC »
Away From the Office
When he's not at work, Dr. Schwinghammer enjoys spending time with his wife, four daughters and one large Newfoundland/St. Bernard mix. He recently added four adult rabbits and four baby bunnies to the menagerie, and looks forward to raising more rabbits.
Schedule Today
Contact us today to book an appointment.
---
Dr. Garret Schwinghammer | (701) 591-2727