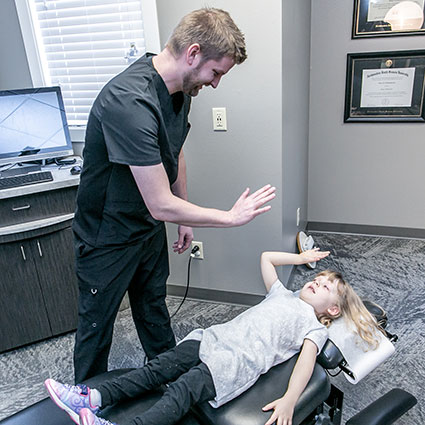 Healing Arts Chiropractic Reviews
What Our Fargo Patients Say
At Healing Arts Chiropractic we love when patients share with us their feedback and comments after chiropractic care. Please read our patient testimonials below to see what other people have achieved through their tailored treatment plans with us.
Share your stories too! Click here to send us your feedback so that we can help to spread the word about the benefits of natural Healing Arts Chiropractic care.
For more information, or to schedule an appointment contact us today.
---
Honest Care
They have great work ethic, timely and honest care. The staff in Wahpeton is very personable and will work you in as quick as they can.
—Lyle L.
Feel Great
The staff at Healing Arts is great. I've been seeing Dr. Gunderson for over 2 years now and he provides excellent care and always is willing to answer any questions I have. I enjoy my visits and feel great when I leave.
—Kayla R.
Very Pleased
Great people. They take the time to actually find the source of your pain. Step by step detailed instructions on the care you will receive. I am very pleased with the care I have received, and would recommend this place to anybody.
—David M.
Great Listener
Dr. Schwinghammer does a great job listening to where your problems spots are and fixing them. Much to my surprise, he took care of my knee pain that I thought was just hereditary.
—Eric J.
Thorough Treatment
The first thing you notice upon arrival is the beautiful facility! Next you will be delighted by the warm and curious staff! The check in process is streamlined and electronic. As if the wasn't enough, the Doctors and techs are so patient and take time to answer any and all questions. Treatment is well thought out and executed!
—Jennifer B.
Comfortable and Welcoming
Wonderful and friendly people!!! They do a great job of making you feel comfortable, welcome, and make sure you understand everything.
—Tina A.
Definitely Recommend
I have been going here for about a year now and the staff is so nice and I have had nothing but good experiences. Definitely recommend this place!
— Sarra A.
Best Practice
This place is the best! They really work with you in every way if it's your schedule or whatever! And I should say I have really improved in my back etc. Just try not to miss any appointments cause it'll improve your health so much more, I highly recommend this place!
—Vickie B.
Great Place!
I love that everyone there goes the extra mile! They all take time to know me and know all of my family's names- no small feat! They do a great job- love Dr Paape. We have been there for 9 years or so. Great place!
—Tana K.
Feeling Better
Dr. Schwinghammer finds the correct spots that hurt and has always made me feel better. The office girls are very friendly too!
—Liz M.
Great Care
Very friendly team, always feel welcomed and like they know who you are when you come through the doors. The care received is great as well, I always feel better when I leave.
—Anna P.
Life Changing
Dr. Gegelman has changed my life. I had been in pain every day with my lower back. I had numbness and pain in my toes. After seeing him for a full treatment plan I now have pain free days and little to zero tingling let alone numbness. I didn't think I could get to this healthy place. I am so grateful to Healing Arts and all of their staff for being so supportive and wonderful and helping me live my life with less pain and more enjoyment.
—Jennifer S.
---
Healing Arts Chiropractic Reviews | (701) 451-9070