New Patients at Healing Arts Chiropractic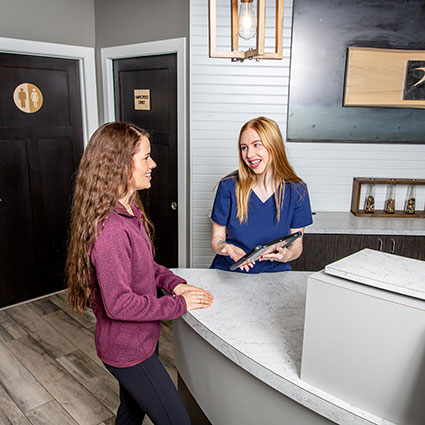 When you walk into our office, we want you to feel at home. A friendly staff member will guide you through our new patient process. We ask that our online paperwork be completed before your visit. If you are unable to do so, please arrive 15 minutes before your appointment to finish.
After this is done, you'll be shown a welcome video prior to the consultation. We know your time is valuable; we make every effort to run on schedule, so you won't have to wait long.
The Initial Consultation
Our onboarding process is done over two visits. On the first visit, after registration is finished, you'll be brought to a treatment room where you'll meet your doctor. After greeting you, the doctor will review your health history, asking additional questions, where necessary, for clarification.
Next, you'll have an in-depth physical exam and chiropractic tests. X-rays, if necessary, will also be done at this time. Your second visit will be scheduled as soon as possible to review your results.
When You Return
On the second visit, you'll receive your results and the report of findings. The doctor will discuss what your X-rays and other tests indicate about your problem. You'll find out what's wrong, how we're going to address it, how long it will take and how much it will cost. The doctor will also give recommendations for care.
Your health care is always your decision. If you decide to move forward with care, you'll receive your first adjustment.
Finances
On your first visit, we'll ask for your insurance information to verify coverage and determine if there's any out-of-pocket expense. The first visit is $40 for all new patients. On the second visit, we'll review coverage and payment requirements.
We're in-network with most insurance providers. We accept Medicare, Medicaid, HSA plans and credit cards.
Free, No-Obligation Consultation
A 15-minute consultation is available with one of our doctors. Contact us to book your time today.
CONTACT US »
---
New Patients at Healing Arts Chiropractic | (701) 451-9070