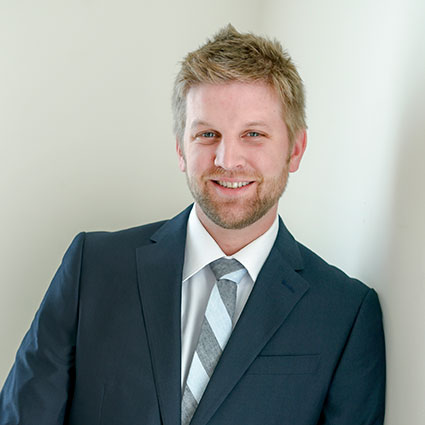 Meet Dr. Mark Gunderson
Chiropractor – Fargo Location
Discovering the Amazing Nervous System
When Dr. Gunderson took an advanced anatomy and physiology class, he became interested in the human body and how it works. Later, he studied the brain and central nervous system, and was amazed at how it all interrelates, with the nervous system controlling millions of things simultaneously so our bodies can function. He decided to pursue a career in chiropractic, so he could learn more and help people function optimally by restoring their nervous system integrity.
Dr. Gunderson began his education at Concordia College in Moorhead, Minnesota, and received his Doctor of Chiropractic from Northwestern Health Sciences University in 2011. After graduation, he moved back home to Fargo and joined Healing Arts Chiropractic.
A Passion for Patient Care
Treating patients from 1 day old to 103 years old gives Dr. Gunderson a broad perspective on patient care. He is grateful for the opportunity to help people naturally, without drugs. For many patients and conditions, chiropractic care is a safe alternative to opioids and other medications, with no side effects or addiction.
Whether it's helping a newborn nurse better, resolving a teacher's migraines so they can get back to work, or restoring a senior citizen's ability to sit and walk without pain, Dr. Gunderson is passionate about providing the best care possible for every patient. He cares about you and your daily life, not just your symptoms. He's dedicated to using his experience and expertise to help you achieve your optimal health, and he will always be open and honest with you.
He offers various adjusting techniques to meet each patient's specific needs, including:
Cox Flexion Distraction
Diversified
Thompson Drop
In His Spare Time
Dr. Gunderson enjoys spending time with his family and friends. He enjoys bowling, golf, volleyball and cheering on his favorite sports teams.
Get Started With Care
Contact us today to book an appointment with Dr. Gunderson.
---
Dr. Mark Gunderson | (701) 451-9070