Meet Dr. Rachel Nelson
Clinical Director/Chiropractor – West Fargo Location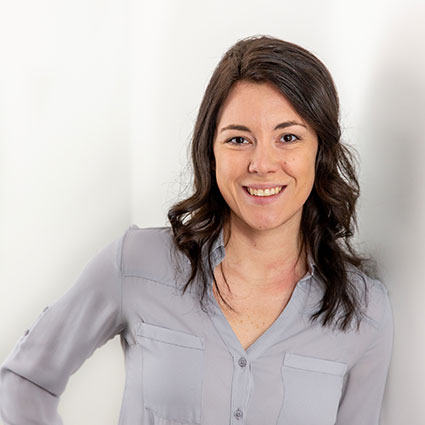 Fargo Chiropractor Dr. Rachel Nelson loves to watch patients who come into Healing Arts Chiropractic with conditions like headaches and stomach issues get progressively better. Her goal is to keep them healthy by explaining the benefits of wellness care. Continuing with wellness care keeps them feeling good and offsets daily wear and tear on the body, so they stay well.
Choosing Chiropractic
Dr. Nelson always dreamed of becoming a doctor, growing up in the small town of East Grand Forks, Minnesota. She has experienced firsthand what chiropractic can do. After suffering a severe low back injury playing high school hockey, her medical doctors prescribed corrective surgery. Dr. Nelson didn't want such an invasive procedure and sought care at a local chiropractor. After getting adjusted, she was surprised by how her body healed itself. She was able to resume playing hockey quickly.
While pursuing her undergraduate studies, Dr. Nelson worked in a chiropractic office. She fell in love with how well adjustments helped people in all aspects of their lives. Now, she is laser focused on helping people heal and get back to work, sports and life.
Dr. Nelson earned her undergrad at the University of North Dakota. She received her Doctor of Chiropractic with a Sports Emphasis at Northwestern Health Sciences University in Bloomington, MN, graduating in 2020.
A Different Outlook
When Dr. Nelson started at NWHSU, she had no idea chiropractic could help with so many conditions. Like most people, she believed it was only for back pain. She now knows that chiropractic can help almost every condition. Patients who follow a wellness care regimen have better mobility, for a longer period.
EXPLORE CHIROPRACTIC »
Away From the Office
When she's not in the office helping patients, Dr. Nelson enjoys watching and playing hockey, and spending time with her wife and dog. She likes to hunt and go out on the lake in the summer.
Ready to Book?
Our staff is waiting to hear from you. Contact them today to book an appointment.
---
Dr. Rachel Nelson | (701) 970-2080